It's been an interesting month
in the studio!
I am
always in awe
of how God weaves
two unseemly subjects together…
One being…
"The Angel Teepee" collection…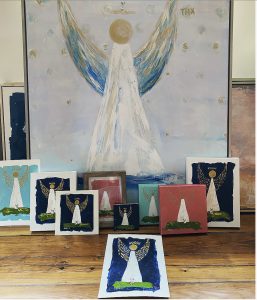 a visual reminder
of His covering and protection.
And the other …
"The TP Frenzy" series
a quirky memento
of the world's peculiar focus
during this
'shelter in place' season.   
One can sense the struggle
is real
between the two…
but both question where my head is stationed.
Do I fixate on what
ShakesFEAR…
or tune in
to the One
who equips 
and
ShakeSPEARs…
The bell goes off…
The wrestling match begins..
there's Fear the Lyinazz …
in one corner
and Laugh Turiz
chuckling in the other…
the whistle blows …
and Laugh Turiz pins Fear's Azz to the ground …
(Yes… this is how my brain plays)
It's in these moments that I realize
the battle has already been won.
It's in these moments
I am oh so thankful for
the sweet and gentle Spirit
that infuses some truthful levity
into my wrestling matches… 
(cue the naked toilet paper roll artwork)  
It is in these moments…
despite the rumors of doom lurking
around their gloomy corners…
the skies seem to be more radiant
floating with clouds
that lift the wonders
within our deepest thoughts….
In an instant,
one recognizes
the true qualities in life…
have been right in front of us all along…
our family,
our friends,
our well being…
the joy in the song of a bird…
it seems their songs
have become more beautiful …
the grass appears greener
It is in these moments…
the true luxury surfaces
in knowing…
His Teepee
(not TP)
is protecting
you, me ,
and all of our loved ones. 
(cue the Angel's Teepee Series)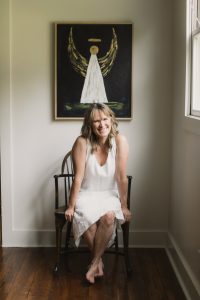 May you discover the blessing
in all the seasons
of life's journey.
Window shopping button is below…