Green Grass and Silver Linings
Out of the blue…
the rug vanishes…
and you realize nothing was as you thought it was going to be. 
The journey that was planned in our heads for our child to take on the road called Easy Street had disappeared…
You know the one…
it's the one that the imaginary and infamous Jones' get to take. 
We found ourselves stranded without a clue as to which direction to take. 
Daily tear-flooded paths finally led me to a vision…
not just a doodle in my head…
not black and white squiggles…
but a full-blown Technicolor freeze frame of hope. 
It was an inkling of time frozen as on a movie frame of a white puffy cloud with shades of silver and the greenest of green grass
all settled into the deepest darkest bluest blue
with a whisper from His Holy Breath….
Green Grass and Silver Linings are in the Deepest and Darkest of Moments…
FIND IT!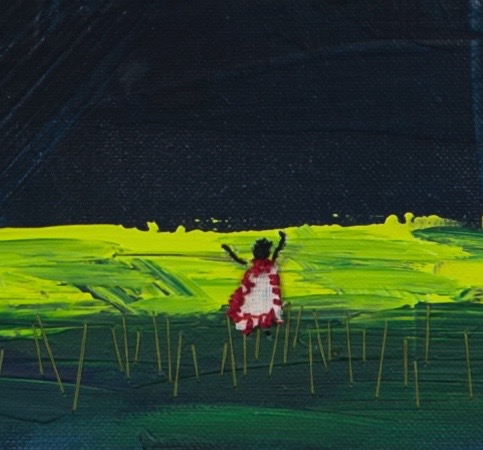 Find these things in each moment, Kim and you'll get through it!!!   
It was this revelation that made me realize the importance that a simple picture
can change the entire atmosphere of my world. 
That was when my world turned from weeping and desperation into more joy and hope. 
I concentrated on that image each time the inevitable gloom and doom world would collapse around me,
attempting to cover up what was a Hand placed and etched with my Father's Fingerprints. 
It was the simplicity of what you and I and all of us are named.  
As ever so cleverly named by HIM…
we are all human BEINGS…
not GONNA-BEINGS
or WAS-INGS
but BEINGS. 
Present tense. 
It is
TO BE …
That simple little image He dropped in my heart reminded me…
to stay connected to the present moment…
and find the good in it! 
There's always something good to discover in a moment…
We just seem to overlook it a lot of the times because that uncomfortable moment wasn't pre-planned
by the all-controlling-wannabe-mother-of-all-time…
MOI!
I ended up painting that image simply titled…
GREEN GRASS AND SILVER LININGS.
Little did I know…
that childlike vision would take on a life of it's own and begin capturing many moments that would minister to others.   
Remember your word to your servant, for you have given me hope.  My comfort in my suffering is this:  Your promise preserves my life.  
 -Psalms 119:49-50