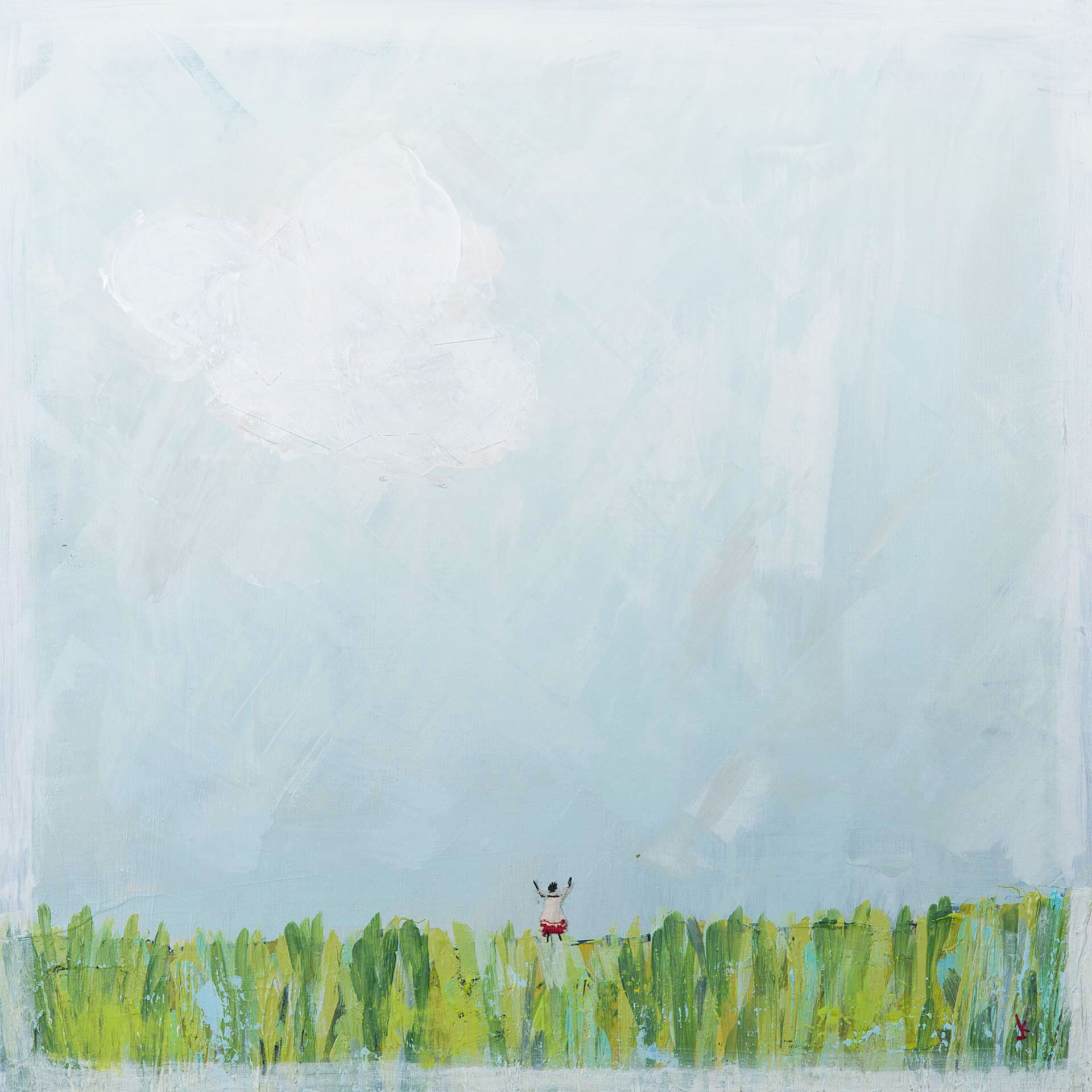 HOW THIS VISION CAME TO BE:
This image came to me shortly after starting this journey into Josephine's world.
It's simplicity again reminds me of childlike faith.
At the time, I did not know that there was someone else in my life who had that very image in her head
while going through her tough times since she was a little girl.
After painting it, I took a break and received a text out of the blue from this precious friend.
She is a golden nugget on this earth and is always filled with such joy and light.
We talked and she asked what I'd been doing.
After letting her know, I'd been painting.
She inquired more about the paintings.
I shared a little bit about Josephine and my mission with her….
still not clicking in my head what was transpiring
until she asked if I thought she'd want to buy one.
Then it clicked….
ʻMary, what is it that has gotten you through your toughest moments all of your life?'
She responded…
ʻThe meadow with Winnie the Pooh.
I also see blue when I am praying and sometimes see the color blue.'
God's geese ran up my arms
and I immediately sent her the pic.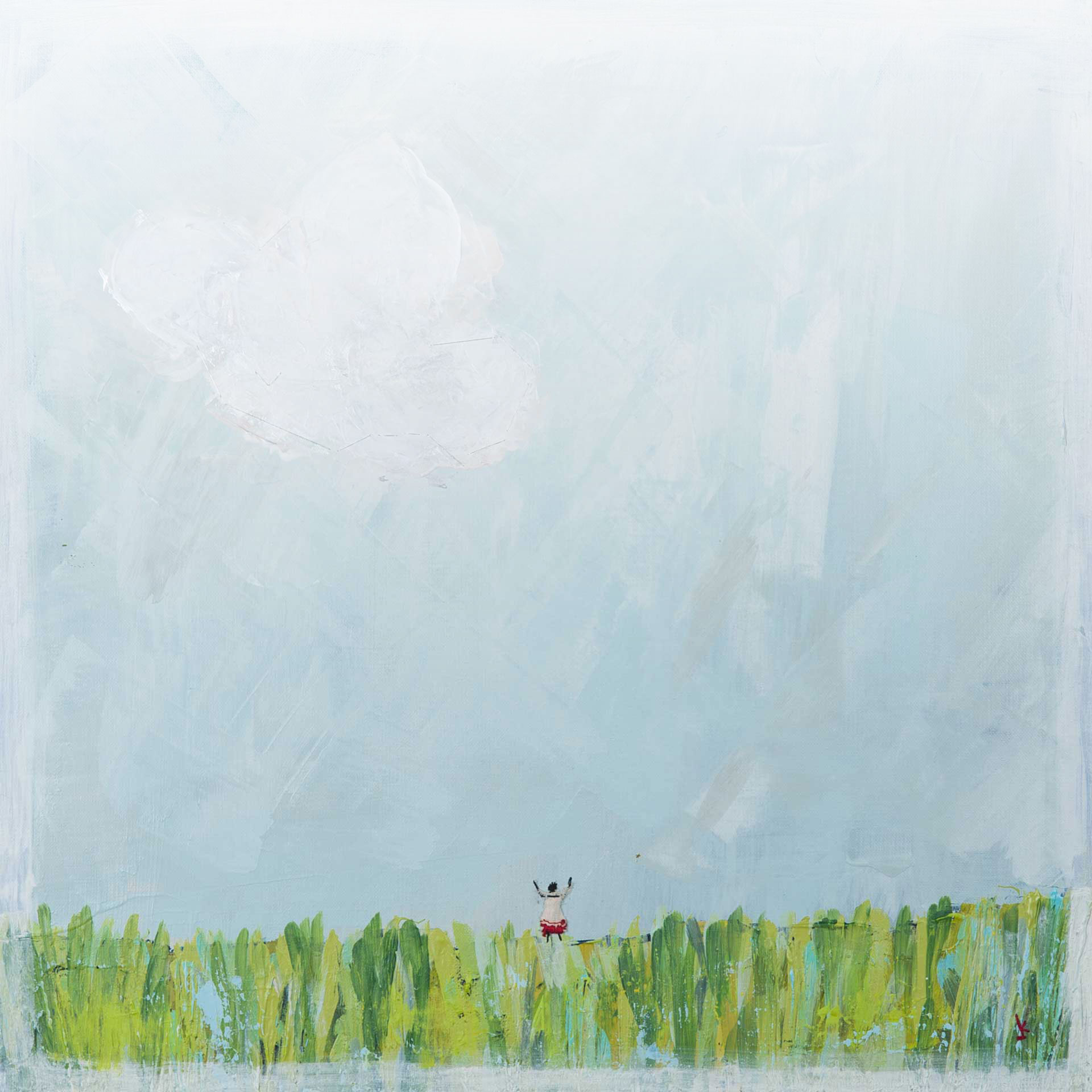 ʻOMG THAT IS MY IMAGE… THAT IS MY PICTURE.
God is so powerful!'
It's her happy place!
I couldn't believe the Lord had already picked
out my next vision to paint.
What sealed the deal that we were onto something special is when I googled up Winnie the Pooh images…
and this image popped up: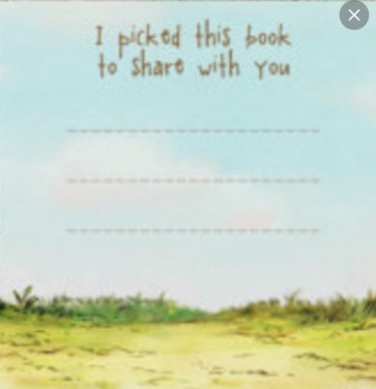 OK, Lord… You've got my attention!!!
Remember your word to your servant, for you have given me hope.  My comfort in my suffering is this:  Your promise preserves my life.  
 Psalms 119:49-50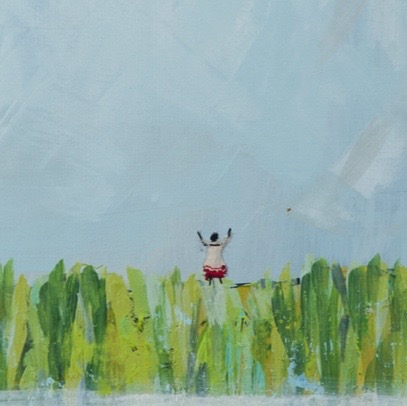 I AM MARY
the love of someone's life,
a sister, a fighter a dog-lover,
a survivor
…THIS VISION
was given to me as a young child.
Being sick at a very young age,
you learn the world isn't always a fun place.
It can be filled with hurt, pain and isolation.
Winnie-the-Pooh was always my escape.
Him singing his song about the rumbling in his tummy.
My vision of a meadow with green grass, blue skies and one single cloud
is the place Pooh would go with Christopher Robin to think.
Now, I look back and know..
As a 47-year-old with Cystic Fibrosis
God gave me
THIS VISION…
BREATHE DEEP
is my picture of calm and peace.
My escape
when I literally felt like Pooh!
He'd send Christ to see me through.
JOSEPHINE
reminds me…
God will guide me out of my situation and get me to a place of peace and strength.